Wetsuit Woman Explorer 3/2 Chest Zip
The Explorer range includes all-around wetsuits which prioritize comfort and durability. They are developed with a unique combination of eco-materials assembled with Mineralprene, made from recycled oyster shells and limestone. The seams are glued and blind stitched, sealed on the inside with ultra-flexible seam tapes. The wetsuit durability is granted by the foam memory recovery technology which maintains its integrity.
When choosing your wetsuit size, make sure to choose the correct fit. The wetsuit should be really fit and tight to begin with. It will perfectly adapt to your body within 2-3 surf sessions.
3/2mm thickness
Mineralprene made in eco-friendly mix of Oyster shell powder with Limestone
Aqua α™: Aqua based lamination glue
YKK chest zip entry system
Chest panel tightening system with elastic/stopper
Rubber bars on left shoulder panel to prevent water flushing
Glide skin neck collar
Seamless opening on the internal neck area
C-FLEX comfortable and soft lining on arms and legs
Glued and blind stitched seams (GBS)
Seams sealed internally with elastic neo tapes 2.0
High density kneepads
Internal stress points reinforced with tape
Key loop on chest
Water temperature suitability: 15-18ºC
Returns: 30 days 
Delivery: 2-6 business days
Freeshipping: on orders over 150€
More information here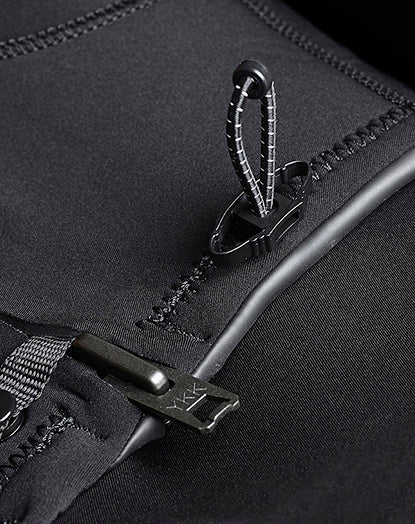 Kneepads
High density knee pads.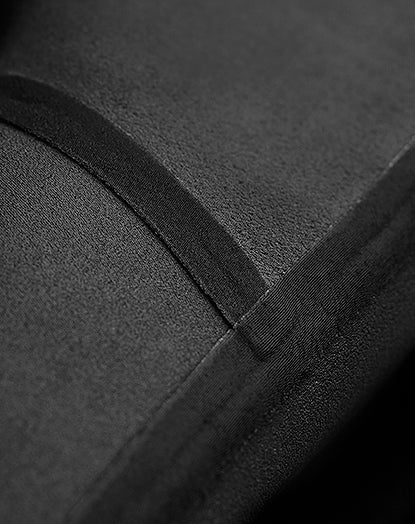 Neo Tapes 2.0
Comfortable and flexible internal water-tight elastic tapes.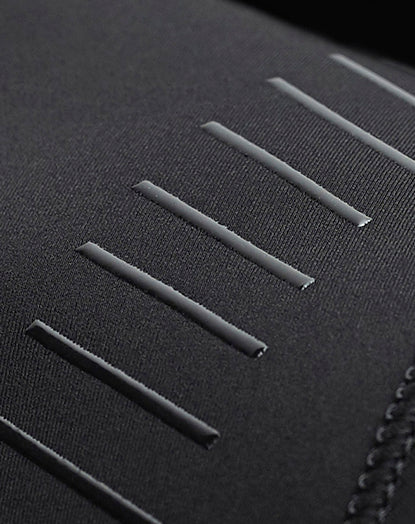 No flushing bars
Rubber bars to seal the upper neck panel.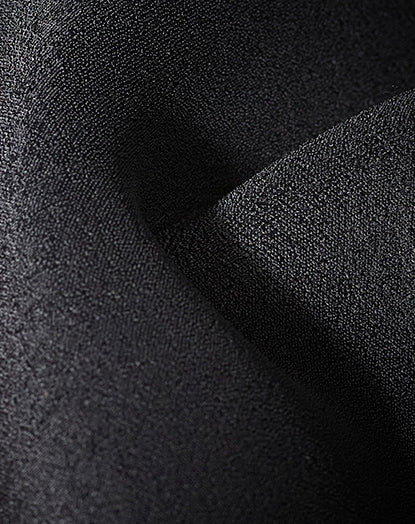 C-flex lining
Soft, comfortable, and warm lining.
Mineral Rock
Limestone
A limestone mineral rock to be precise. Our wetsuits use earth mined limestone to substitute petrochemicals in our wetsuits. It is a natural mineral, which helps us reduce the environmental impact of our wetsuits. This is not only better for the environment, but for you as well. Limestone offers greater flexibility, is lighter, and contains increased sun ray protection.
Recycling Tyres
Carbon Black
Eco Carbon Black is one of the main ingredients found in our wetsuits. Old tyres are one of most problematic sources of solid waste. They contain a significant amount of fossil fuel derived carbon clack , one of the biggest contributors towards climate change. Eco carbon black is obtained by recycling tyres as opposed to burning fossil fuels. This process consumes more CO2 than it emits. It reduces CO2 emissions by 72%. This circular economy approach gives back to the planet, and we support it.
×
The size guide it's a helpful information to support you to select the most suitable size, based on weight and height. However, there are many other factors that influence the choice of the perfect size, among them the body physiognomy, which varies from person to person. The size guide is not a guarantee that the size you choose is the perfect size. Considering the different body physiognomy, clients with the same weight and height may wear different sizes.
| | | | | |
| --- | --- | --- | --- | --- |
| SIZE | HEIGHT(CM) | HEIGHT(FT) | WEIGHT(KG) | WEIGHT(LBS) |
| XXS | 162-166 | 5'3''-5'44'' | 54-61 | 119-134 |
| XS | 165-170 | 5'41''-5'57'' | 57-64 | 125-140 |
| S | 170-175 | 5'57''-5'74'' | 61-70 | 135-155 |
| MS | 172-178 | 5'64''-5'83'' | 64-73 | 140-160 |
| M | 175-180 | 5'74''-5'9'' | 68-77 | 150-170 |
| MT | 178-183 | 5'83''-6'0'' | 73-82 | 160-180 |
| L | 181-186 | 5'93''-6'1'' | 77-86 | 170-190 |
| LT | 184-189 | 6'04'' - 6'2'' | 78-84 | 172-185 |
| XL | 185-191 | 6'06"-6'26" | 86-95 | 190-210 |
| XXL | 189-194 | 6'2"-6'36" | 95-104 | 210-230 |
Tips:
Tips and "reference points" that you should pay attention to, in order to confirm that the chosen size is the right one for your body physiognomy:


-In the shoulder area, the suit must be properly fitted, but comfortable;


-The armpits fit well and there is no excess of neoprene.


-When folding forward, the neoprene does not accumulate excessively


-The kneepads are aligned with the knees.


-The collar must be free of any slack and tight around the neck, ensuring, however, the necessary comfort. If you feel any discomfort in the neck area, we advise you to use a cream (like nivea or vaseline) to avoid any kind of rash in the neck area.


-The wetsuit ends in line with the ankles.
The wetsuit must be tight to your body. When the wetsuit is tried for first time, it's normal that the wetsuit to feel a little tight to the body, even with a slightly feeling of discomfort. However, with the usage of the wetsuit it becomes more larger between 15%-20% and, after the first 2 or 3 uses, it will adapt to the body. In order to perform its functionality perfectly, as indicated, the wetsuit must be tight to the body.
Watch video for more information.